Amanda Visell
From Vinyl Creep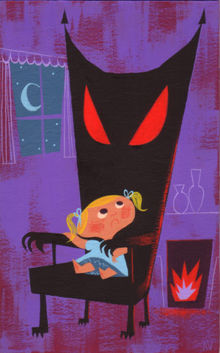 Biography
Amanda Visell lives in the Los Angeles area by choice. She paints cartoony pictures and makes things. She did not go to school for this. Her artwork has been seen in galleries and museums nationwide including an exhibit and exclusive merchandise line at Disneyland USA.
Designed Toy Releases
These are toys designed by Amanda.
Toy Series Participation
These are toys that Amanda has lent their design skills to.
Customs
These are one-off, or very limited, toys.
"Last Days of Autumn" with Coarse Toys, 9 pieces, 2018
Pieces for With Smiles on Our Lips, 2015
"Last Days of Winter" with Coarse Toys, 2014
"First Days of Despair" with Coarse Toys for Blooom Art Fair, 2014
Wood Labbit - 10" Pandalope, 2013
Piece for Tokusatsu, 2012
Steven the Bat & Dragon Scout - "Steven the Pterodactyl", 10 pieces, 2012
Piece(s) for Nature Calls, 2012
Seahorse and Rider - 7" "Lumberjack" custom for TTF, 2011
Custom for I Am Legion, 2011
Piece(s) for Pray for Japan, 2011
Bad Badtz-Maru - 10x customs, 9 with a Hello Kitty mask and 1 with an eyepatch, 2011
Buff Monster Series - Custom for The Monster Within show, 2010
Rody - custom for Enjoy Rody Taiwan, 2010
Piece for the Balls Out show, 2010
Mega Munny - 18" Custom for the Munnyworld Toy Exhibition‎, 2009
Wood Labbit - 10" Swamp Thing, 2009
Wood Labbit - 10" Birds, 2009
Wood Labbit - 10" Escape from the Wood, 2009
Wood Labbit - 10" Moonglow, 2009
Wood Labbit - 10" Ice Labbit, 2009
Wood Labbit - 10" Burning Labbit, 2009
Skull King - 6", wood, 5 pieces, 2009
Llama - wood, 5 pieces, 2009
Boris the Raccoon - custom for the release of Boris, 2009
Dragon Scout - Circus Dragon, custom for the Dragon Scout release, 2009
Dragon Scout - Dragon House, custom for the Dragon Scout release, 2009
Vadar Helmet for the The Vadar Project, 2009
Munny - 20" Gnome Eating Bat, 2009
Sucklord - custom for the Suckadelic Group Show, 2008
Piece for the Balls Out show, 2008
"Beaver & Friends" for Vivisect Playset Show, 2008
Piece(s) for I am 8-Bit, 2008
Cat House & Paintings for A Band of Bugs, 2008
Piece(s) for Vivisect Playset Show, 2007
Vadar custom for The Vadar Project, 2007
Piece for Stuffed, Plush Food Show, 2007
Piece(s) for Power In Numbers 2, 2007
"American Werewolf in London" for Crazy4Cult, 2007
Munny - "Wood Elephunt" for Vinyl Elements, 2007
Piece(s) for Baby Tattooville, 2007
Cheshire Cat - 8" custom for We're All Mad Here, 2006
Piece(s) for Vivisect Playset Show, 2006
Piece for The Unicorn Show, 2006
Piece(s) for I am 8-Bit, 2006
"Baby Mine" for Remixing the Magic, 2006
My Little Pony custom for The Pony Project, 2005
Piece for The Monster Show, 2005
Images
Production Pieces
Toy Series Participation
Customs
Other Work