Main Page
From Vinyl Creep
Welcome to Vinyl-Creep
Currently Serving
7,856
Articles.
The ultimate database on all things Designer Vinyl! This is a free encyclopaedia of Artists and their work. It's free to contribute, just register in the top right corner and off you go! Are you an artist and toy designer? Go ahead and add yourself! Don't know how to edit a wiki? See our How to Edit pages!

Don't forget to visit Vinyl-Creep on Flickr, click here. Add up your own pictures of your collections, rare pieces and customs. You can also follow VC on Twitter, click here. And don't forget to "like" us on Facebook, click here and on Instagram here.

If you're new to the toy scene, it might be worth swinging by our ever-growing Glossary to get up to speed with all the toy terms and phrases.

For the latest news on toy releases and shows, check out the blogs and zines.
Featured Custom: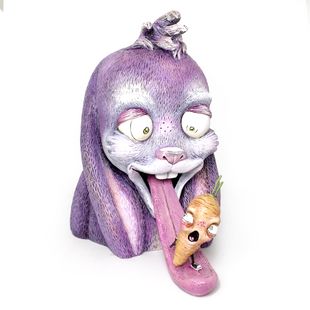 Aleppin Sane custom by One-Eyed Girl
Featured Toy: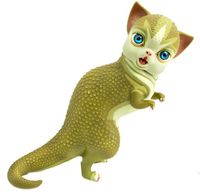 Kitty Rex
Created by Mab Graves with 3D Retro. Kitty Rex stands 9.5" tall.

For more details please click on the Title name.
Featured Artist: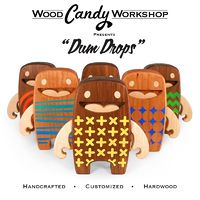 Cameron Tiede
Raised in the great white north of Canada, on sugar-infested cereal, 80's music, Peanuts comics, and classic Nintendo games Cameron Tiede has always stayed a kid. In the 90's, he ventured down to Southern California to thaw out and attend Art Center College of Design where he studied illustration. Cameron's signature style is infused with raw energetic characters and stimulating colour. Described as "illuminated innocence," his work is as playful as it is honest. Currently he draws, paints and designs for himself and others. He is working on a number of limited edition art toys which are due out this year. Some of his clients have included Disney, Mattel, Nickelodeon, and Warner Brothers. His work is both exhibited and collected around the world.

For more details please click on the Title name.