Main Page
From Vinyl Creep
Welcome to Vinyl-Creep
Currently Serving
8,072
Articles.
The ultimate database on all things Designer Toy! This is a free encyclopaedia of Artists and their work. It's free to contribute, just register in the top right corner and off you go! Are you an artist and toy designer? Go ahead and add yourself! Don't know how to edit a wiki? See our How to Edit pages!

Featured Toy: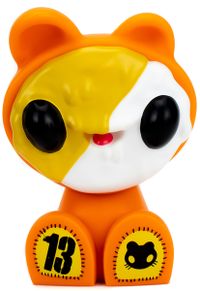 Cookie Cat Crew
Created by Czee13 and produced by Clutter Studios, he stands 5" tall.

For more details please click on the Title name.
Featured Artist: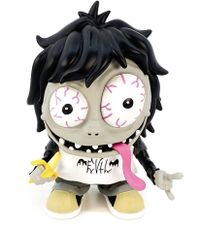 MCA
Evil was born in 1991, when one of MCA's favorite entertainers, Pee Wee Herman (Mr. Paul Reubens), was arrested in an adult movie theater. Agitated by the absurd way in which Reubens was demonized by the media, MCA manipulated his mug shot, added devil horns to his head, and sarcastically wrote the word "Evil" beneath it. He printed up T-shirts and stickers with this image and began distributing them in and around Boston: Since then, Evil Design has spread throughout the world.

For more details please click on the Title name.