Doktor A
From Vinyl Creep

Biography
[
edit
]
Raised by the military and monitored by men in white coats until he was 16. Doktor A has always scribbled monsters. "You will never make a living drawing little men" said a teacher once. They were nearly right.
He has to draw, design and build little men to make a living. These dubious skills have seen him work in theatre, TV, advertising, magazines, toy design, merchandising and the music industry. He lives under a hill in the UK. From there he monitors the world's off-kilter-culture and produces his dark twisted dreams. Character driven clashes of urban pop culture, classic children's stories and neo-Victorian industrial neverlands.
Solo Shows
[
edit
]
These are solo shows from DokA.
Designed Toy Releases
[
edit
]
These are toys designed by Doktor A.
Toy Series Participation
[
edit
]
These are toys that DokA has lent his design skills to.
Customs
[
edit
]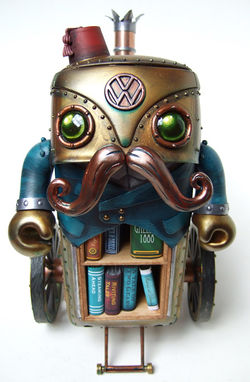 Janky - 8" "Headlock Robinson" custom, 2019
Big Licker - custom for Lick of Love, 2017
Dunny - 5" "Quentin Face" custom for the Shard Show, 2017
Toyconosaurus - custom for Customania at ToyCon UK, 2017
Luna - custom for the Luna Custom Group Show, 2017
"The Hob-Boglin (Hoblinus Boglinum)" Boglins custom for the Boglins Custom Show, 2016
The Blank - "Ambulatory Artillery Unit 57" custom for The Blank Show, 2016
Various customs for ToyCon UK 2016
Geekwok - custom for the Custom Geekwok Show, 2015
Bella Delamere - "Rockabella Delarole" custom, 2015
Bella Delamere - "Bella Luna" custom, 2015
Bedtime Bunnies - "If Only I Had a (Plastic) Heart" custom for Bedtime Stories, 2015
Moon Fox - custom for Reimagining Moon Fox, 2015
Dunny - 3" "Talking Board" customs, 4 pieces, 2015
Billy - "Edward Woodhead" custom for Blamo 5th Annual Custom Show, 2013
Bella Delamere - "Amelia Incactatum" custom, 2013
Bella Delamere - "Hedge Witch" custom, 2013
Piece for 99 Deaths of Jar Jar, 2013
Pieces for Monsters and Misfits 3, 2013
Cavey - custom for Cavey's 3rd Birthday, 2013
Piece(s) for Winter Salon, 2012
Piece(s) for the Morphous Group Exhibition, 2012
Pieces for Monsters and Misfits 2, 2012

"Joshua Hipplethwaite Confectioner aka Candy Factory", 2012
"Cook aka The Confectioner", 2012
"Minion", 2 pieces, 2012

Pieces for Bewitching, 2012
Jaws - "Rupture", commission, 2011
Pieces for Bewitching, 2011
Piece(s) for Vintage, Modern Narrative, 2011
Jumping Brain - "Ronson Travithik's Pet" custom for the Brain Evolution Exhibit, 2011
Pieces for Imaginary Menagerie, 2011
Cavey - 4" Cavey x Doktor A, 2011
"Carter P" for New Dimensions, 2011
Mini Lunartik in A Cup of Tea - custom for Lunartik Mini-Tea Tour, 2011
Piece(s) for The Addams Family, 2011
Jibibuts - custom for We Heart Wood, 2010
Cranston Fellows Jr - custom for When Hell Freezes Over, 2010
Fatima - Mina Custom
Fatima - Red Custom
Lunartik in A Cup of Tea - custom for the Lunartik Custom Tea Tour, 2009/2010
Munny - 18" Custom for the Munnyworld Toy Exhibition‎, 2009
LMAC Zombie - The Whipple Brothers custom for Freaky Mechanique solo show, 2009
Pieces for The Study, 2009
Custom, "Ignacious Longbottom", for Noxious Fumes, 2008
Droplets - custom for Jam and Custard, 2008
Mad L - 10" Blavatski & Son's Automated Kismet Disseminator, for the MadL Citizens show, 2008
Soopa - Custom for The Soopa Show, 2008
Sharky - "Trevithick's Wandering Puppet Theatre" custom for ToyQube's 4th Anniversary Show, 2008
Walter Van Front Lorez - VW Van custom for SDCC 2008
Treeson - 5" for the Multiple Personalities show, 2008
Spud, Thundermutt & Munny - "Mr. Tristan's Magnificent Electric Portal", 2008
Think Up - "The Pickman Company's Wondrous Mechanical Abhorrence" custom for Monster Art Rally, 2008
Yoka - 10" "Hobnail" custom for Beasts of Burden, 2008
BUD - 9" "Lugger" custom for This BUD's For You, 2008
Moody - custom for Don't Cry Over Spilt Vinyl, 2008
Labbit - 10" Woppit & Hare's Intriguing Clockwork Enigma custom for Down the Bunny Hole, 2008
Soopa - Pac Gentleman for Spit and Polish, 2007
Adios - Hermit custom for Spit and Polish, 2007
Uglydolls - 8" Nugget custom for Spit and Polish, 2007
Moofia - 6" Imp custom for Spit and Polish, 2007
Firecat - The Hideous Plastic Boy, 2007
Snorse - The Night Mare, 2007
Piece(s) for Vinyl Elements, 2007
Munny - Sepia, for Munny Shot, 2007
Munny - 8" for the Winter Munny Show, 2007
Munny - 8" Custom, 2007
Munny - 8" Custom 2007
"A Letter From The Front" - painting for Sadly Beautiful, 2007
Zliks - Sir Cuthbert Pinkerly-Wormsborough at the Helm of Her Majesties Ironclad Defender, for Attack of the Zliks, 2007
Gwin - 13" Flow Rider, Mega Gwin for the Mega Gwin Custom Show, 2007
Custom for the Art Toy Alchemists show, 2007
Munny - 8" ""A Day in the Un-Life of Max Schreck" Custom Munny for The Detroit Munny Show, 2007
Adios - Hermetic Hermit, for his Spit and Polish solo show, 2007
Fatima - Automatic Girl, 2006
Helpers - 2006
Munny - Hyde, 2006
Nade - custom for Operation Fragmentation, 2006
Qee - 8" Decaying Orbit, 2006
Uglydolls - 7" "Crepuscular" Ice Bat custom, 2006
Qee - 9" Bunnee Qee for Bunny Qee Fiesta, 2006
Munny - custom for The Detroit Munny Show, 2006
Nade - Professor Whistlecraft's Astounding Incendiary Automaton, 2006
Dunny - Nautilus and Diver, 2006
Doughboy - Panis Paur, for the Yeast Infection show, 2006
Munny - Pirate, 2006
Squire - 5" Forest Keeper custom, 2006
Teddy Troop - 10" Sir Hillary Pine-Coffin Acting Rear General 117th Semi Mechanised custom, 2006
Icebot - Professor Whistlecraft's Industrial Copper-plated Marvel, 2006
Piece(s) for The Monster Mash, 2006
Poddyville - Shroom, 2006
Poddyville - Attractor, 2006
Poddyville - Rupture, 2006
Poddyville - Patch, 2006
Piece for Gee Whizz, 2006
Podling - 5" custom for the DIY Podling Show, 2005
Cre8tive Peeples - 8" custom for Vinyl Pulse competition, 2005
Production Pieces
[
edit
]
Customs
[
edit
]
Other work
[
edit
]