Eddy Table
From Vinyl Creep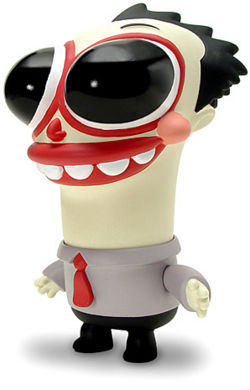 Eddy Table is a big-eyed 5" vinyl figure, created by Dave Cooper in 2004 and produced by Critterbox. Eddy stood 5" tall and was limited to 3,000 pieces.
Eddy Table sleeps in a tree, has enormous eyes, big teeth and spiky hair — and in his world, this all makes perfect sense.
Eddy Table's packaging offers a complete lifestyle environment featuring Eddy in a street scene surrounded by faithful admirers. A tree-top nest perfect for napping appears on the box lid, and on the back, a two-panel comic documenting the evolution of a "replica" — a stand-in Eddy to handle some of life's more trivial tasks.