Unicornos
From Vinyl Creep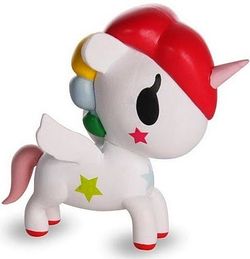 Created and produced by Tokidoki, Unicornos are small blind boxed figures, approx 2"-3" tall, released in 2011. In 2012, Series 2 was released. Series 3 was released in 2014.
In late 2011 a few of the characters were turned into plush figures standing between 8"-10" tall. In 2013, a 5" vinyl figure was released.
The Unicornos were once little ponies that were out trotting and wandered into a magic waterfall. Passing through the waterfall, the ponies transformed into unicorns and found a hidden magical kingdom. The Unicornos live between the magic kingdom and our world.
Editions
[
edit
]
Series 1

Bellina
Dolce
Fumo
Metallo
Mooka
Peperino
Pogo
Prima Donna
Ritmo
Stellina
Series 2

Sakura
Bambu
Kaili
Caramelo
Sunny Day
Rodeo
Mario
Sergeant Rumble
Cheetah
Zamba
Vandelo
Series 3

Rocky
Timber
Margherita
Cleo
Bowie
Cosmo
Lolopessa
Scooter
Pixie
Coccinella
Drago (Chaser 1)
Milo (Chaser 2)
Series 4

Yuma
Yuki
Sirena
Hikari
Elettrico
Lily
Pallina
Ruby
Cornetto
Can Can
Kingsley
Cremino
Series 6

Hanako
Galactica
Gemma
Gaia
Adios & Caramelo
Yume
Fuego
Miso
Sundae
Usagi
Pop Star
Summer
Series 7

Fruitina
Victoria
Thai Princess
Star Fairy
Lulu
Onicorno
Super Panda & Bambu
Slider
Izumi
Robolina
Series 8

Cosmico
Pluma
Medusa
Nectarina
Odette
Olivia
Fauna
Porcellana
Quartzy
Starlina & Supernova
Plush

Prima Donna
Stellino
Kaili
Major League Baseball Yankees
Major League Baseball Mariners
Margherita
Series 1
[
edit
]
Series 2
[
edit
]
Series 3
[
edit
]
Series 4
[
edit
]
Series 5
[
edit
]
Series 6
[
edit
]
Series 8
[
edit
]