Michael Lau
From Vinyl Creep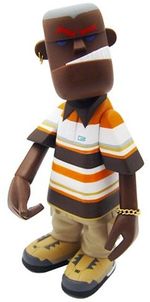 Biography[edit]
Michael Lau started first by comics and Happy Gardeners,modified figures. He started to sell the Gardeners at toy shows,and shortly after,Neatnik asked him to produce some figures. He later started to show ads on Viewsic and started to gain popularity. Over time,he collaborated with Maharashi,Colette,and others. The Gardener name comes from the Gardener concept.
Designed Toy Releases[edit]
These are toys designed by Michael.
Toy Series Participation[edit]
These are toys Michael has lent his design skills to.
Customs[edit]
These are one-off pieces by Michael.
Production Pieces[edit]
External Links[edit]