Domo
From Vinyl Creep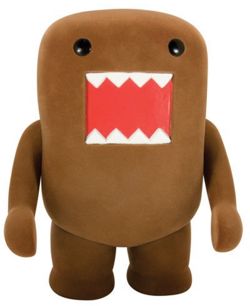 Domo is the mascot of Japan's NHK television station, appearing in several 30 second stop-motion sketches shown as station identification during shows. In 2006 Nickelodeon announced that it was to develop 26 two-minute shorts of Domo-kun for broadcast in the United States.[1][2] In December 2007 ICv2 announced that Nickelodeon would begin airing the shorts in early 2008. In late September 2008 Nicktoons (Toonsters) aired for the first time on UK television a 2 minute Domo Kun cartoon - A Big Tree.
Domo, the main character, is described as "a strange creature that hatched from an egg". Domo's favorite food is Japanese-style meat and potato stew, and he has a strong dislike for apples, because of an unexplained mystery in his DNA. Domo can only communicate via producing a low-pitched noise which sounds somewhat like his own name, but other characters appear to understand him. Domo-kun is known to pass gas repeatedly when nervous or upset.
The iconic Domo character has lent itself well to toys, with companies like Toy2r producing their own Domo Qee mould.
Editions
[
edit
]
Large Vinyl
[
edit
]
The following figures are produced by Dark Horse in 2008:
Small Vinyl
[
edit
]
The following figures are Qees by Toy2r: