MAD
From Vinyl Creep
Biography
Based in Kansas City, MAD (Jeremy Madl) got his BFA degree in Toy Design back in the year 2000 and has quickly become one of the freshest think tanks out there today. Working with clients such as Mattel, YUM Brands, Pepsi, Scion, Wild Planet, NFL , Upper Deck, Playmates Toys, Makita and IDT Entertainment on a variety of todays hottest brands. Doing all types of projects ranging from promotions to packaging, character design to retail and premium toys. MAD has been able to broaden his skills from simply Toy Design to anything a client may need creatively.
Aside from his commercial work MAD has been working non-stop on his own licensed toy lines and brands under the MAD Toy Design label for the past 6 years. His first licensed figure line MAD*L™ is currently one of the hottest brands on the market and continues to fly off the shelves globally with each new release. There are many other new products in development ranging from toys, tee's, prints, and more. MAD is always looking into new media outlets to express himself.
Solo Shows
Designed Toy Releases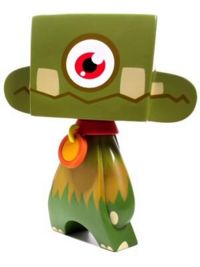 These are toys designed by MAD.
Toy Series Participation
These are toys MAD has lent his design skills to.
Customs
These are one-off toys by MAD.
Images
Production Pieces
Customs
External Links