Negora
From Vinyl Creep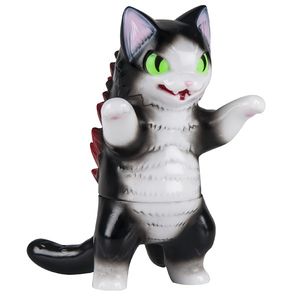 Created by Konatsu with Max Toy Co and produced by TTToys. Some editions of Negora come with a big fish accessory. Negora stands 3.5" tall. Negora is a kitty Godzilla with two tails and spines down it's back.
In 2012 a 1.25" "Micro Negora" was created. There is also a far larger "Daioh" Negora who stands 8" tall.
Lucky Negora was another form, sitting 2" tall in the form of the traditional "Lucky Cat" or "Maneki Neko", and comes with a paper fortune inside.
A 1.5" standing Negora keychain figure has also been released. It is designed for Japanese vending machines.
And not forgetting "Sleeping Negora" who is 4" long.
Editions
[
edit
]
Regular

Max Toy Club Exclusive Clear Green
Max Toy Exclusive Calico
Toy Karma 3 Exclusive
Hyper Hobby Japan Grey
Siamese Kaiju
Holiday Snow White 2012 (flocked)
Hyoka "Ice Candy" (Q Pop exclusive)
Sabatora (Version 1)
Mike (Version 1)
Mint
Dilute Calico
Cow
Hachiware
Kijitora
Snow Purple
Snow Ice
Snow Leopard
Peach
Halloween 2014
Cotton Candy
Pink Glitter Negora set - ToyCon UK 2015 exclusive
Silver
Yellow - ToyCon UK 2016 exclusive
Ragdoll
Space Stroll set - with Uamou
Lemon & Orange
China Blue
Halloween 2016 set - with Gaikochu
Black Cat
Diamond Dust
Halloween 2018
Mike (Version 5th)
Cream Soda
Snowflake
Sepia
Sakura
Lucky Negora

Unpainted
Maneki Neko
Lemon Yellow
Pink Siamese
Cotton Candy
Sepia
Keychain

White
Clear Red
Clear Blue
Black
Calico
Black & White
Giant Daioh

Lucky Cat
Pied Cat Stone
Dilute Calico
Blue Flame
Clear Green - NYCC'17 exclusive
Black Lucky Cat
Fruit Candy - Five Points Festival 2018 exclusive
Diamond Dust
Silver Tabby
Sepia
Mike Minor Change
Regular
Micro
Lucky
Keychain
Giant
Sleep
Sets