Dreams in Focus
From Vinyl Creep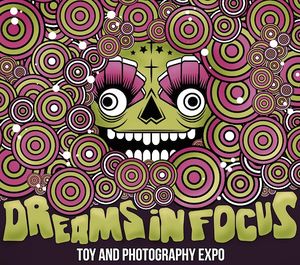 Vinyl Destination, South Africa's favorite online designer vinyl toy store, is proud to present it's first custom toy show, titled and themed, "Dreams In Focus".
Not only is it our first custom show we are curating, but it is also South Africa's first custom toy show featuring a roster of local South African artists AND international toy artists. A big step forward for the designer toy scene in Southern Africa.
Along with a 4" toy, each artist will also be customising a Lomography camera, bringing together the wonderful world of designer vinyl and photography, to create a truly unique and exciting show! The custom set will then be completed by an A4 1/1 print, which will make the result a fantastic 3-piece collectors set that fans from both the vinyl toy and photography scene would love to own.
Dreams In Focus is all about bringing together the designer toy and photography community, while giving something back. That is why we have decided to dedicate and donate all proceeds of custom sales to the Red Cross War Memorial Children's Hospital, who we are working together with to make sure all proceeds will go to the support of their rehabilitation program that helps children in their Burns Unit.
Dates & Addresses[edit]
July 19th 2012 - Exposure Gallery, Shop E101, The Old Biscuit Mill, 373- 375 Albert Road, Woodstock, 7925 Cape Town, Western Cape
The Artists[edit]
Kronk, The Given, Sam Breakspear, MiniKiki, BrentBlack, 64 Colors, Lunartik, Cris Rose, Lunabee, VISEone, Frank Skullboy, Wihan Mouton, Hylton Warburton