Category:Bearbrick
From Vinyl Creep

Please copy and paste ' [[Category:Bearbrick]] ' into the end of your article to include it in this category.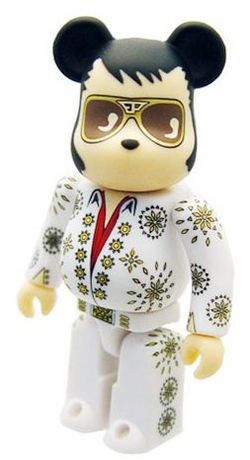 Bearbrick are cute little bears made by Medicom, in the style of their Kubrick series. Most of the designs are by Medicom, although with each series there are usually one or two designs from artists outside of Medicom including H R Giger and Nathan Jurevicius. Every 2" series has the following figures designed by Medicom; Basic, Cute, Horror, Pattern, Flag, Jellybean, Animal, SF, and chase figures by guest artists.
As well as the regular series, there have been many many crossovers to film, cartoon, clothing and corporate companies, including Nike and Spiderman. There are increasing numbers of sets incorporating both Bearbrick and their Kubrick cousins.
Some of the more expensive and sought after Bearbricks have been released in larger sizes such as 400% (8") figures. These are often released in extremely limited numbers. The 1000% (20") figures are released in even more limited numbers, and sometimes only one offs.
Subcategories
This category has the following 16 subcategories, out of 16 total.
Pages in category "Bearbrick"
The following 45 pages are in this category, out of 45 total.
Media in category "Bearbrick"
The following 200 files are in this category, out of 533 total.
(previous page) (
next page
)
(previous page) (
next page
)