Attaboy
From Vinyl Creep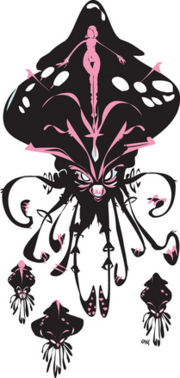 Biography
[
edit
]
Attaboy is an internationally shown artist, creator and toy designer whose work is seen in galleries, museums, toy boutiques, magazines (Newsweek, Wired, Juxtapoz, Clutter, Playtimes, etc.), calendars, and art books. After years of creating, recreating, and inventing award-winning and best selling toys for Hasbro and Milton Bradley, he went AWOL to create his own art and licensing studio. His art work has been licensed to Dark Horse, Last Gasp, Tower Records, Kiss, the Dixie Chicks, Sony, and many more.
Atta is the co-founder of the critically acclaimed Hi-Fructose under the counter culture magazine which has grown to a world wide circulation which quickly sells out, Hi-Fructose features interviews and exposes with a growing echelon of pop and visual counter culture artists like Mark Ryden, Chris Ware, Jeff Soto, and Tim Biskup. The first four volumes of Hi-Fructose will be reprinted in book form later this year and will be published by Last Gasp.
Too Many Robots, an animation created and directed by Atta premiered in May on the Disney Channel. It is now downloadable on ITunes and seen on YouTube.
Attaboy's interpretation of all too literal abused punctuation marks is personified as vinyl toys in his Super Action Nub Nub series, which includes his most popular character with interchangable mouths, the Axtrx.
Atta's Art focuses on the disturbed childlike sensibilities that he values above all else and is centered in a world of goo filled creatures; lust filled and awkward, uneasy with their own cuteness or simply unaware of it or how it affects them or others, all imagined in a palette reminiscent of a rusted cruise ship.
Designed Toy Releases
[
edit
]
Toy Series Participation
[
edit
]
Customs & Show Pieces
[
edit
]
Production Pieces
[
edit
]
Customs & Show Pieces
[
edit
]