Ron English
From Vinyl Creep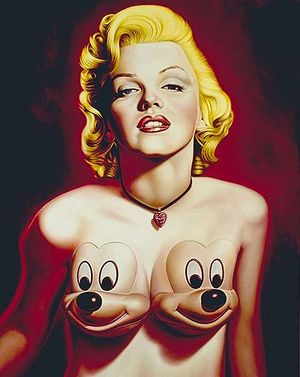 Biography
[
edit
]
One of the most prolific and recognizable artists alive today, Ron English has bombed the global landscape with unforgettable images, on the street, in museums, in movies, books and television. English coined the term POPaganda to describe his signature mash-up of high and low cultural touchstones, from superhero mythology to totems of art history, populated with his vast and constantly growing arsenal of original characters, including MC Supersized, the obese fast-food mascot featured in the hit movie "Supersize Me", and Abraham Obama, the fusion of America's 16th and 44th Presidents, an image widely discussed in the media as directly impacting the 2008 election. Other characters carousing through English's art, in paintings, billboards, and sculpture include three-eyed rabbits, udderly delicious cowgirls and grinning skulls, blending stunning visuals with the bitingly humorous undertones of America's Premier Pop Iconoclast.
Designed Toy Releases
[
edit
]
These are toys designed/created by Ron English chronologically.
Grin Series (2009-Present)
[
edit
]
Delusionville Series (2005, 2007-2018)
[
edit
]
Cereal Killer Series (2012-2018)
[
edit
]
Toy Series Participation
[
edit
]
These are toys that Ron has lent his design skills to.
Customs
[
edit
]
These are one-off toys by Ron.
Production Pieces
[
edit
]
Toy Series Participation
[
edit
]
Customs
[
edit
]