Category:Gloomy Bear
From Vinyl Creep

Please copy and paste ' [[Category:Gloomy Bear]] ' into the end of your article to include it in this category.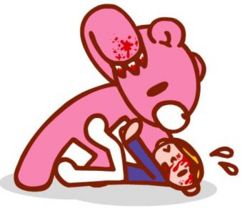 Gloomy, an abandoned little bear, is rescued by Pity, a little boy. At first, he is cute and cuddly, but becomes more wild as he grows up. Since bears do not become attached to people like dogs by nature, Gloomy attacks Pity even though he is the owner. So Gloomy has blood on him from biting and/or scratching Pity. Mori Chack often thinks about the incompatibility between humans and animals and some illustrations showing a bear and a person hand in hand totally disgust him. This cannot be true! Although cruel, he believes that the relationship between Gloomy and Pity is natural.
Japanese designer Mori Chack wanted to represent Bears as they really are, cute but vicious at the same time.
Gloomy Bear Toys
[
edit
]
Gloomy Bear began as a soft pink plush with plastic claws, and this has now evolved to bears of every colour and size, and even branched into vinyl toys, clothing, accessories and homewares! There have also been crossovers with other figures, especially Medicom's Kubrick figure.
Media in category "Gloomy Bear"
The following 78 files are in this category, out of 78 total.