Erick Scarecrow
From Vinyl Creep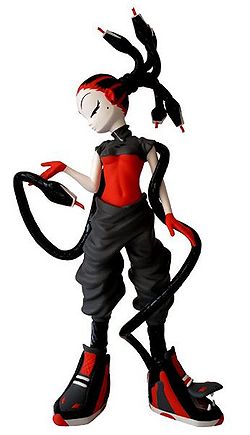 Biography
[
edit
]
Erick Scarecrow is the founder and head of ESC-Toy LTD. From online interviews it's known that he used to be a Art Director for "undisclosed" toy company. He recently severed the relationship with Kaching Brands due unknown reasons but on french blog "which the post was later removed" stated that Kaching wasn't keeping up it's royalty schedule with Scarecrow.
Most recently Erick was awarded first place artist of the year by Plastic and Plush.
Eric Scarecrow is a good friend of David Foox and worked with David in producing ORGAN DONORS.
Designed Toy Releases
[
edit
]
Toy Series Participation
[
edit
]
Customs & Show Pieces
[
edit
]
These are one-off or limited run customs by Erick.
Production Pieces
[
edit
]
Customs & Show Pieces
[
edit
]