Stuffed, Plush Food Show
From Vinyl Creep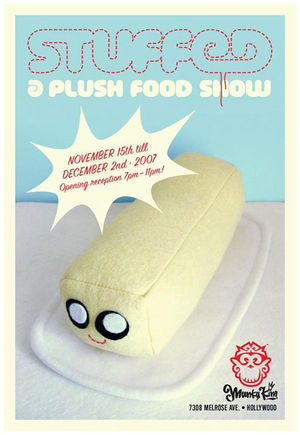 A feast for the eyes, STUFFED will create an extraordinary meal made of plush stuffed friends. The show will be comprised of 3 main sections. The first is "The Feast". The Feast will center around a plush turkey designed by Shane Geil of Purple Flavor and will be rounded out with lobster, sushi, pizza and many more mouthwatering food favorites. The second section is the "Dessert Cart" which will be spilling over with sweets, cakes and pies made of delicious looking felt and fabric. The third section is the "Grocery Store" which will have bountiful baskets of all different kinds of colorful plush foods that can be purchased and taken home starting on opening night! The Grocery Store will house fortune cookies, apples, doughnuts and more fun treats.
From the über-realistic cupcakes made by Kenta Shibusawa (Japan) to the cartoon-esque bread and butter of Heidi Kenney of My Paper Crane (USA) STUFFED lampoons the traditional American holiday food spread and combines humor with art.
Plush and food themed art will be for sale the night of the event and throughout the exhibition.
STUFFED is presented by Munky King and curated by Sarah Jo Marks of DKE Toys. Ms. Marks gathered over 25 of the most amazing plush designers to participate. Like a pot-luck, designers were asked to submit their ideas and Ms. Marks coordinated the plush dinner menu.
Dates & Address
[
edit
]
November 15 - December 2nd 2007 - Munky King, 7308 Melrose Ave, Los Angeles, CA 90046 USA
The Artists
[
edit
]
12PUNT3, Anna Chambers, Bytedust, Crystal Chesney-Thompson, Cutesypoo, Dan Goodsell, Dog Bone Art, Erick Scarecrow, Funfun, Heidi Kenney, I Heart Guts, Jelene Morris, Kate Sutton, Kenta Shibusawa, Kika, Lazysmash, Marion Hawkes, Michelle Valigura, Miskellaneous, olive47, Planet Tokki, Reneé Lawter, Shane Geil, Serena Kuhl, Shawnimals, Snaggs, Spök-spök, Steff Bomb, T&A, Amanda Visell, Blinky, Fawn Gehweiler, Kii Arens, Lou Pimentel, Shawn Wolfe