Jibibuts
From Vinyl Creep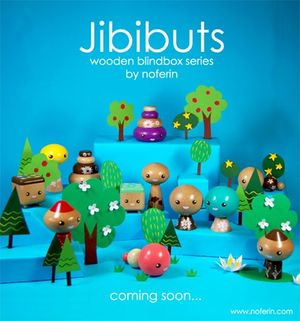 Created and produced by Noferin, produced from sustainable rubber tree wood. These are blind boxed figures released in 2010 standing around 3" tall. There were 12 documented and 2 unknown species.
Editions
[
edit
]
Series 1

Poli (male)
Poli (female)
Wooli (male)
Wooli (female)
Fili (male)
Fili (female)
Suii (male)
Suii (female)
Moli (male)
Moli (female)
Dili (male)
Dili (female)

JIB Couples Set - SDCC'10 Exclusive Black, 25 sets
Artist Series, 2012
For Jibibuts customs click here.