Mongers
From Vinyl Creep
Mini figure series created by Frank Kozik and produced by Kidrobot. Each figure is 2" - 3.5" tall.
Menthols:
Minty and anaesthetic!
From Frank Kozik's hazy world of nicotine addicted everything comes a brand new cast of smorkin' characters. Personable and cool-ly refreshing, meet Smokey's newly reinforced crew - Esteban, Captain Blood, Lorenzo, Earl, and a whole pack of premium rolled and twisted characters. If the first carton didn't satisfy that craving, give the menthols a shot. Get hooked on them all. Here for a limited time only, so smoke 'em if you got 'em!
P.S. Oh yeah, don't forget, as Smokey himself always says, "Smoking Is Bad."
Editions
[
edit
]
Series 1
[
edit
]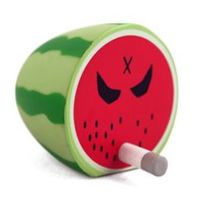 Smokey
Pink Bunny
Lucius
Bloody Lucius
Sarge
Bob Bloody + Green
Bob Bloody + Yellow
Herman
Sam & Pete
Elwood
Ramirez
Ramirez Glow (GID)
Jerome Pink + White
Jerome Pink + Brown
Jerome Pink + Glow (GID)
Big Jake
Big Jake Yellow
Series 2 - Menthols
[
edit
]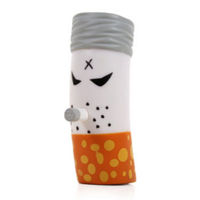 Party Naked Bunny
Dmitri and Popov Yellow and Purple
Dmitri and Popov Black and Purple
Dennis
El Flaco
Karl Pink
Karl Brown
Gunther
Randall
Augustus White
Augustus Orange
Captain Blood
Winston
Finnegan
Lorenzo
Earl
Esteban
Nelson
Smokey Filtered
Maynard
Ace & Joey
Filter Kings
[
edit
]
Burt
Booger
Booger GID
Klaus
Klaus GID
Bronstein
Mr Terwilliger
Jimenez
Stumpy
Von Kleist
Nick
Wall Street
Cyrus
Major Throckmorton
Fat Louie
Howie
El Cabo Labbit
Series 1
[
edit
]
Menthols
[
edit
]
Filter Kings
[
edit
]