Monsterism Volume 4 0
From Vinyl Creep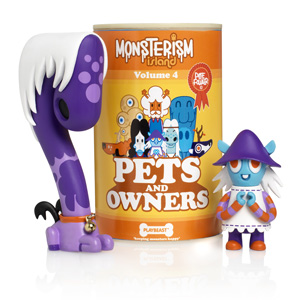 Monsterism Volume 4.0 - Pets & Owners was created by Pete Fowler and manufactured by Playbeast, released in late November 2007.
Series 4 in the Monsterism series focuses on the relationships between pets and their owners, and how the two often look alike. Each contained 2 figures, a pet and it's owner. The series were packaged in card tubes designed to look like tins of pet food.
Editions
[
edit
]
Note: These are listed in the order they appear in the image below.
Hattie & Mr Pasty
Brambly & Princess 2
Ambrose & Scratch
Zylphia & Badge
Maxx & Grylph
Barnabus & Big Egg
Foul Owl & Pickles
Snuggets & Snelina