Dr Bomb
From Vinyl Creep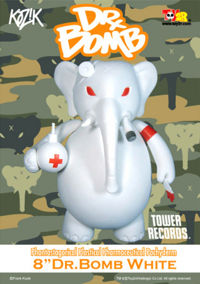 Created by Frank Kozik, Dr Bomb has been produced in two sizes, 8" and 10" by Toy2R (A Hong Kong based company). Dr. Bomb is an elephant, standing on it's hind legs. Most of the figures feature a Bomb Accessory, Scalpel Accessory, and there are often two versions released (one with two tusks, and one with the signature Kozik cigarette in place of one tusk). Many Dr. Bomb designs also feature a "cross" design on the stomach, and several have blood on the feet, "hands" and the scalpel. There are 3 Dr. Bomb editions that feature an Ice Cream accessory and a Spoon accessory in place of the usual Bomb and Scalpel.
In a 2005 Interview with Vinyl Pulse, Kozik had the following to say about his Dr. Bomb toys, "I like Dr Bomb because I feel it's my first 'pure' toy (like no connection to anything else) and hope it is be well received. I hope Dr Bomb becomes a permanent 'platform' toy."
There have been several "Exclusive" figures made, available only at a specific retailer. Retailers include Tower Records, Asia Outdoor, and Toy Tokyo.
Editions
[
edit
]
Blackcross - 100 pieces
Blueberry Surprise Smorkin' Version- 100 pieces
Blueberry Surprise Teeth Version - 100 pieces
Lime Sherbert Smorkin' Version - 350 peices
Lime Sherbert Teeth Version - 350 peices
Orange Swirl Smorkin' Version
Orange Swirl Teeth Version (Toy Tokyo Exclusive)
Stealth Smorkin' Version
Stealth Smorkin' Version
Stealth Teeth Version
Artic Rescue Smorkin'(Asia Outdoor Exclusive) - 100 pieces
Wermacht - 200 pieces
Black
White (Tower Records Exclusive)
Corpsman
GID Blue - 500 pieces
GID Pink - 500 pieces
Black Hairy - Flocked, Red Eyes
Red Army - Green