Category:Toy2r
From Vinyl Creep

Please copy and paste ' [[Category:Toy2r]] ' into the end of your article to include it in this category.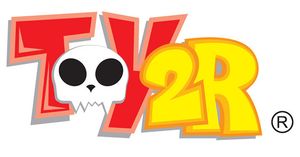 Created out of an obsession for designer/art toys and collectables, Hong Kong based company Toy2r continues to break down the boundaries between product design, art and graphics.
Raymond Choy founded the company in 1995 where he took his dream of a once owned toy store known as 'Toy R' (short for Toy Raymond), which held countless quantities of limited edition toy collectables, and turned it into a internationally recognized company amongst the first to explore the potential of the designer/art toy movement. Ultimately, instilling contemporary art into the vinyl toy market we all know and love today.
Toy2r is a multi-faceted company whose logo was taken from their most loved and cherished mascot, the 'Toyer.' In 2001 Raymond released the skull-headed figure alongside what was to become the most ubiquitous toy canvas in the world, the Qee keychain figure.
Toy2r takes great pride in our determination to not only innovate but inspire artists', designers' and the world's generation of youth alike. Their main objective is to provide limited/collectable designer/art toys at an affordable price, based on the coolest designs for the current international market.
Toy2r has received numerous internationally renowned awards for their outstanding achievements; starting with the 2007 Vinyl Toy of the Year from Plastic and Plush, since 2002 winning AFT's (Action Figure Times) Best Block Toy Award for six consecutive years running, AFT's Best Vinyl Toy Award in 2006, AFT's Most Innovative Company Award in 2004, AFT's Toygodd's Crystal Award from 2003 - 2005 and many more.
Customs
[
edit
]
Pages in category "Toy2r"
The following 31 pages are in this category, out of 31 total.
Media in category "Toy2r"
The following 21 files are in this category, out of 21 total.