Nimbus Custom Show
From Vinyl Creep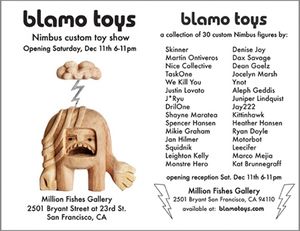 This coming weekend in San Francisco, Blamo Toys will be unveiling 30 new custom figures as a part of their 2nd annual custom toy show. Last year Blamo Toys celebrated the launch of their website by hosting a custom toy show using their popular "Billy the Rabbit" character.
This year, 30 artists have been chosen to re-create long-time Blamoville resident "Nimbus". From detailed repaints to completely re-sculpted character overhauls, this year's artists have truly outdone themselves, breathing their new and unique visions into this classic Blamoville character.
Curated by Mikie Graham and Spencer Hansen.
Dates & Address
[
edit
]
December 11th 2010 - Million Fishes Gallery, 2501 Bryant Street, San Francisco
The Artists
[
edit
]
Skinner, Martin Ontiveros, Nice Collective, TaskOne, We Kill You, Justin Lovato, JRyu, DrilOne, Shayne Maratea, Spencer Hansen, Mikie Graham, Jan Hilmer, Squidnik, Leighton Kelly, Monstrehero, Denise Joy, Dax Savage, Dean Goelz, Jocelyn Marsh, Ynot, Aleph Geddis, Juniper Lindquist, Jay222, Kittinhawk, Heather Hansen, Ryan Doyle, Motorbot, Marco Mejia, Kat Brunnegraff, Leecifer