Patrick Chow
From Vinyl Creep
Biography
[
edit
]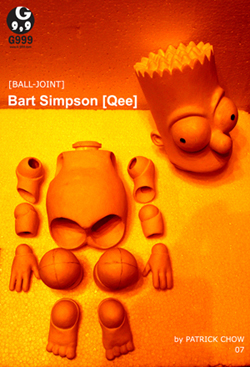 Patrick Chow founded G999 and served as chief toy designer with a focus on Ball Joint Doll design (BJD Artist).
Dedicated to the development of the creative and design industry in Hong Kong; G999 is actively promoting and distributing many local designer brands.
In 2003, Patrick Chow designed and created a line of cartoon characters called'We Are Human Being' as well as a line of assassin characters called'10K', which was known for its unique contours and shapes.
In 2005, G999 started organizing and hosting exhibitions and quickly established its presence with many local and foreign designers and brands. Amongst the many exhibitions hosted by G999 included "Sex is", an exhibition jointly sponsored by local designers and international brand Durex, "Our Happy Tree Friends Exhibition (2005)", sponsored by renowned cartoon characters from the US, Happy Tree Friends.
In 2006, Patrick Chow started studying the design and manufacturing techniques of Ball Joint Dolls, hoping to further promote the popularity of Ball Joint Dolls in Hong Kong. Patrick Chow's designs have been exhibited in prominent exhibitions such as the Comic Book ART IDOL 2007 (Ball-Joint Devilman) and the Toy2r 10" Qee D.I.Y. Project: Bart Simpson Art Exhibition 2007 (Ball-Joint Bart Simpson).
Designed Toy Releases
[
edit
]
Toy Series Participation
[
edit
]
Customs & Show Pieces
[
edit
]