Gary Baseman
From Vinyl Creep
Biography
[
edit
]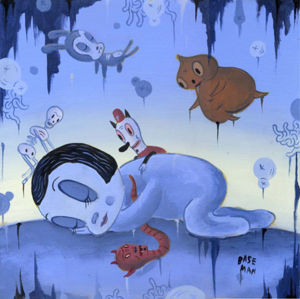 Born in Los Angeles in 1960, this first generation Polish-American artist has become one of the most recognized illustrative artists of our age. Gary received a degree in Communications from UCLA, and worked in NYC as a commercial illustrator for 10 years. His illustrations have been featured in such diverse publications as the New Yorker, Time, Esquire, Rolling Stone, the New York Times, Forbes, Blab, LA Magazine, Reader's Digest, Atlantic Monthly and Newsweek. He created the artwork for Cranium, voted "Game of the Year" two years in a row by the American Internation Toy Fair and worked as the illustrator for "I Don't Need to Have Children, I Date Them: 23 Child Psychology Techniques to Use on Boys of All Ages". He has also been featured in American Illustration, AIGA, Print, The Society of Illustrators, Humor and The 100 Show.
Although Gary has achieved reknown in many fields, he is probably most well known for his work as the creator and executive producer of "Teacher's Pet", a story based on his real-life dog, Hubcaps, which ran from January 26, 2001-January 16, 2004, and was made into a full-length feature film in September 14, 2007.
Gary has received many awards throughout his career, including the Emmy for Best Daytime Animated Series, the BAFTA for Best International Children's Programme, the Outstanding Individual Achievement Emmy for Production Design and was voted "One of the 100 Most Creative People in Entertainment" by Entertainment Weekly.
His work is featured in the permanent collections of National Portrait Gallery in Washington, DC and the MMA in Rome.
Designed Toy Releases
[
edit
]
Toy Series Participation
[
edit
]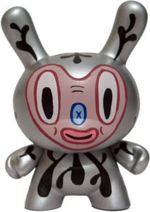 Customs & Show Pieces
[
edit
]
Production Pieces
[
edit
]
Customs & Show Pieces
[
edit
]