Parskid
From Vinyl Creep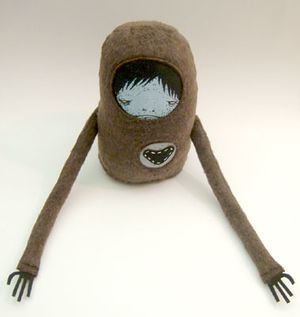 Biography
[
edit
]
PARS's work is inspired by the vastness of nature, folklore and the cosmic where the terrestrial and the universe meet and blend into abstraction.
With his recent work Pars has opened up his psychedelic world – exposing the viewer to bizarre new landscapes and themes that explore the vastness and connectedness of our universe. Vast cloud formations give way to monolithic peaks. Dark nebulas writhe in the cosmic expanse. Diamond vortexes connect the terrestrial to the beyond in beams of energy.
PARS's style evolved from graffiti techniques into a detailed process of overlapping paint and stencil applications that are a process uniquely his own.
Solo Shows
[
edit
]
Designed Toy Releases
[
edit
]
Toy Series Participation
[
edit
]
Teddy Troop - 3" Series 3, 2009
Qee - 3" Design Is Kinky Baby Qee, 2004
Customs & Show Pieces
[
edit
]