Rolito
From Vinyl Creep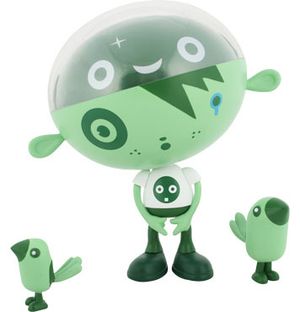 Biography
[
edit
]
Rolito is a French artist who is most well known for his first figure, Rolitoboy, and his design work for PlayStation Europe for the Euro Football Cup. His work has been seen in such various publications as Los Logos, Pictoplasma 2, Iconography 2 and Design is Kinky Permanent 4.
He graduated from the School of Beautiful Arts then worked with Teamchman and Toy2R before starting Semper-Fi, a French design group, with some friends. The group works on various projects such as character design, web design, toys, and animation. Rolito is the coordinator and character designer for Semper-Fi; the other members include Chick, Dany, Run, Yan and Gus.
His unique sense of design has also been used in the PSP Game "Patapon" where his artworks formed the basis of the gameworld and the creatures within it.
Designed Toy Releases
[
edit
]
Toy Series Participation
[
edit
]
Customs & Show Pieces
[
edit
]
Production Pieces
[
edit
]
Customs & Show Pieces
[
edit
]