The Pony Project
From Vinyl Creep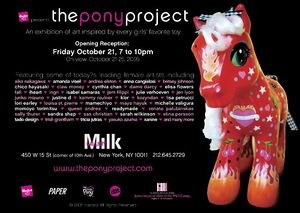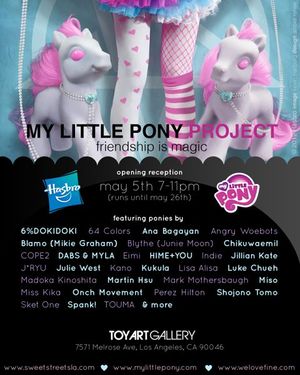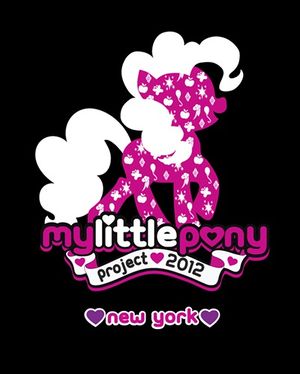 Hasbro Toys and Thunderdog Studios joined forces to present The Pony Project at Milk Gallery in NYC in 2005. The Pony Project featured 18" renditions of Hasbro's beloved My Little Pony toy customized by nearly 50 top female artists and designers. Fifty percent of the proceeds from the sale of the Pony art pieces plus additional merchandise was donated to the Association of Hole in the Wall Camps which is dedicated to helping children with serious illnesses and life-threatening conditions.
In 2008 to celebrate the 25th Anniversary of My Little Pony, Hasbro, with Thunderdog Studios presented the My Little Pony Project: 25 Ponies for 25 Years gallery exhibition at the Chelsea Art Museum in New York City (September 18th / one-night-only) featuring diverse customs from designers. The twenty-five 18" My Little Pony-customs will be auctioned off by CharityFolks.com in support of Give Kids The World Village (a nonprofit organization that provides week-long vacations to Central Florida to children with life-threatening illnesses and their families).
Hasbro's MY LITTLE PONY Project returns in 2012 with a year-long global celebration of MY LITTLE PONY: Friendship Is Magic, a charitable art exhibition inspired by MY LITTLE PONY. 2012 marks the first world tour of the MY LITTLE PONY Project, engaging talents in Los Angeles, New York, and Tokyo, Japan.
Dates & Address
[
edit
]
October 21st - 25th 2005 - Milk Gallery, New York City USA
September 18th 2008 - Chelsea Art Museum, New York City, USA
May 5th - 26th 2012 - Toy Art Gallery, 7571 Melrose Ave., Los Angeles, CA 90046
October 13th - 15th - The Hester at The Eventi Hotel, (Located at 6th Avenue and 29th Street), 835 6th Avenue, New York, NY 10001
The Artists
[
edit
]
Aiko Nakagawa, Amanda Visell, Andrea Elston, Anna Cangialosi, Betsey Johnson, Chico Hayasaki, Claw Money, Cynthia Chan, Dame Darcy, Elisa Flowers, Fafi, iheart Boutique, Isabel Samaras, Ingri, Jem Filippi, Julie Verhoeven, Jen Lyon, Junko Mizuno, Justine D, Kammy Roulner, Klor, Kozyndan, Lisa Alisa, Lisa Petrucci, Lori Earley, Louisa St.Pierre, Mamechiyo, Maya Hayuk, Michelle Valigura, Momoyo Torimitsu, Queen Andrea, Readymade, Renata Palubinskas, Sally Thurer, Sandra Shap, Sas Christian, Sarah Wilkinson, Stina Persson, Tado, Trish Grantham, Tricia Jutras, Yasuko Azuma, Xanine
123Klan, Catalina Estrada, Claw Money, Jon Burgerman, Junko Mizuno, Tado, Tokidoki, Junie Moon, Julie West, Superdeux, Jim Houser, David Arquette and Courteney Cox, Leah Remini, John Stamos, Deborah Gibson, Amy Grant, LeAnn Rimes, Kimora Lee Simmons for Baby Phat, Lisa Pliner
6%DOKIDOKI, 64 Colors, Amy Sol, Ana Bagayan, Angry Woebots, Blamo (Mikie Graham), Blythe (Junie Moon), Chikuwaemil, COPE2, DABS and MYLA, Eimi, HIME+YOU, Indie, Jillian Kate, Joyrich, J*RYU, Julie West, Kano, Kukula, Lisa Alisa, Luke Chueh, Madoka Kinoshita, Martin Hsu, Mark Mothersbaugh, Miso, Miss Kika, Onch Movement, Perez Hilton, Shojono Tomo, Sket One, Spank!, TOUMA
6%Dokidoki, 64Colors, Bei Badgirl, The Beast Brothers, Camilla d'Errico, Chikuwaemil, Cope2, Dabs and Myla, eimi, Hanazuki, Hime+you, Indie184, Jeremiah Ketner, Malcolm Stuart for Joyrich, Junie Moon, Julie West, Lisa Alisa, L'amour Supreme, Luke Chueh, Madoka Kanoshita, Martin Hsu, Onch Movement, Perez Hilton, Rob Reger, Shojono Tomo, Sucklord, TOUMA
Show Images
[
edit
]
2005
2008
2012