Julie West
From Vinyl Creep
Biography
[
edit
]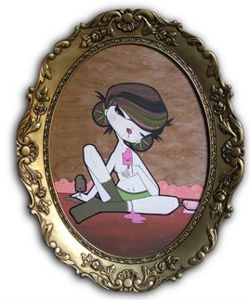 Julie was born in the winter of 1975 in the midwest. She spent her childhood taking art classes and volunteering at a local art gallery. She then went on to study art and graduated with a BFA in Illustration in 1998 from Milwaukee Institute of Art and Design.
Julie started out as a traditional media artist - using primarily acrylic, gouache, and technical pens. After spending a few years working as a print and web designer, various computer and design related elements began to surface in her work. Now her work is created with traditional means about half of the time - the rest being digital or a combination of the two.
Her work relies heavily on people and environments. Often quirky, bizarre, or ironic, Julie looks heavily at the way people live and define themselves, as well as the environments which they create for themselves. Studying these details, often reveals the unique moments that make us human.
After moving to England in 2005, Julie now spends her days in her studio, quite content that she makes things all day.
Solo Shows
[
edit
]
Designed Toy Releases
[
edit
]
Toy Series Participation
[
edit
]
Customs & Show Pieces
[
edit
]
Production Pieces
[
edit
]
Customs & Show Pieces
[
edit
]