Ken Keirns
From Vinyl Creep
Biography
[
edit
]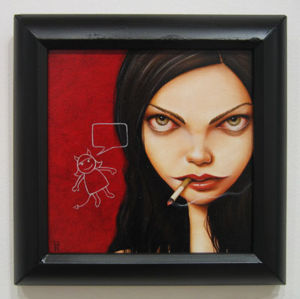 Ken Keirns is a Midwestern oil painter. After spending the last decade living in Chicago and California, he recently settled in Colorado where he paints full time and looks forward to the winter. While his primary medium is oil, he also enjoys creating sculptures and mixed-media pieces. His subject matter includes female portraiture and anthropomorphic creatures interlaced with personal experiences, dreams, and the occasional bad pun. Ken's formal education is in graphic design and, while he has taken a few formal painting classes, is mostly self-taught. Ken's artwork has been acquired by collectors across the U.S., Europe and Asia, and has been featured in publications including Spectrum, Catapult, and Hi-Fructose.
Solo Shows
[
edit
]
Designed Toy Releases
[
edit
]
Toy Series Participation
[
edit
]
Customs & Show Pieces
[
edit
]
These are one-off customs by Ken.
Customs & Show Pieces
[
edit
]