Jeremyville
From Vinyl Creep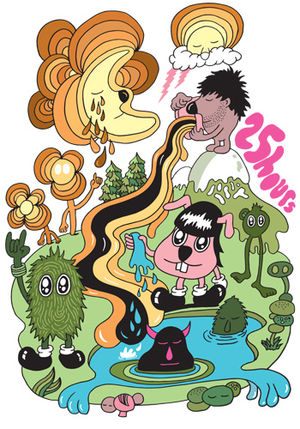 Biography
[
edit
]
Jeremyville is an artist, product designer, animator and human. He wrote and produced the first book in the world on designer toys called Vinyl Will Kill, published by IdN, interviewing peole like Fafi, Sarah from Colette, Baseman, Biskup, Pete Fowler, Jason Siu, Kinsey and Kozik.
His latest book is called 'Jeremyville Sessions', featuring collaborations with Geoff McFetridge, Miss Van, Devilrobots, STRANGEco, Lego, Converse, MTV and Adidas. His art has been published in design books by IdN, Die Gestalten Verlag, All Rights Reserved, Victionary, MTV, Magma Books, Kidrobot, Faesthetic, Laurence King, Taschen and Pictoplasma.
Jeremyville has worked with clients such as Converse, Rossignol, Colette, Coca Cola, MTV, Kidrobot, Refill, Graniph in Japan, Adio Shoes, STRANGEco, Wooster Collective, Super Rad Toys, Play Imaginative, sketchel, Adidas, Tiger Beer and Tiger Translate, Artoyz in Paris, Domestic Vinyl in Paris, Corbis, Thunderdog, Red Bull, Pop Cling, 55DSL and Beck.
He has appeared in magazines such as Swindle, Vapors, xlr8r, Wallpaper, Dazed and Confused, Nylon, Monster Children, Oyster, Computer Arts UK, Fused UK, Yen, IdN, Territory, Juxtapoz, The Drama, Beautiful Decay, 119, Xfuns, T World Journal, and Faesthetic.
Jeremyville splits his time between studios in Sydney Australia and New York City. He collects rare t-shirts, sneakers, toys and denim, and had a Converse x Jeremyville shoe released in late 2008.
Designed Toy Releases
[
edit
]
Toy Series Participation
[
edit
]
Customs & Show Pieces
[
edit
]
Production Pieces
[
edit
]
Customs & Show Pieces
[
edit
]